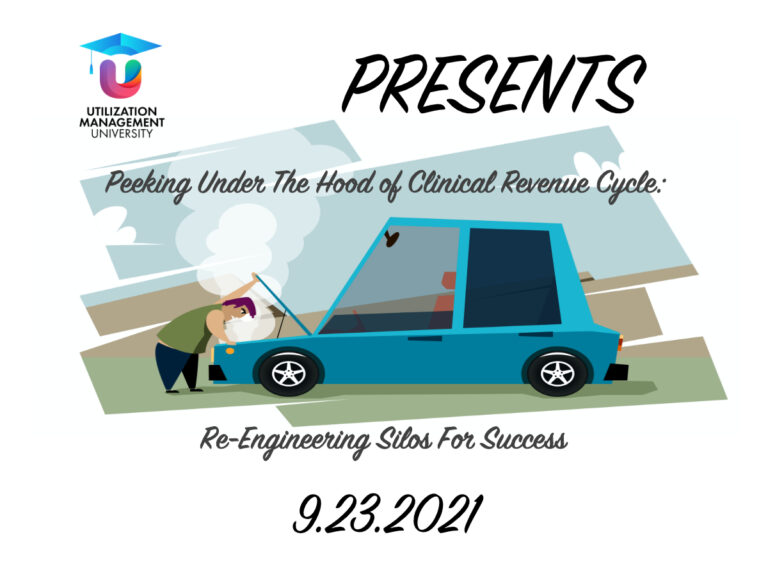 Join us for this all day remote Seminar
          Why do you need to attend?
           Learn Process Improvement for your Clinical Revenue Cycle
           How is Cash an Outcome, not a Goal
           How to Achieve Documentation Improvement for Excellence
           Utilization  Review and Case Management - together or apart
           Managing Payer Denials
Register here for this Seminar to learn about Clinical Revenue Cycle (CRC) as it is seldom mentioned and under-reported, but needs to be recognized for its importance as a major revenue driver for Revenue Cycle Management (RCM)!
Full Day - $350
Register before 8.15.21 Price Reduced to $250
Seminar will be recorded and slides will be available to registrants
CEU's Available
Return to HOME page
John Zelem, M.D.
President and Owner
Streamline Solutions Consulting, Inc
Jim Zelem, Leadership, Teamwork & Process Improvement Coach
Process Improvement, Optimizing Your Assets
OBJECTIVES:
Attack the problem; not the symptom
Focus on the Process for best results
Understand the value of the team empowerment
Use KPIs (dashboard) to monitor the engine
Tiffany Ferguson, Chief Executive Officer at Phoenix Medical Management, Inc
Utilization Review & Care Management: How do they stay connected while they grow a part? 
OBJECTIVES:
Reframe the role of UR and Care Coordination/Care Management
Evaluate current trends of URS moving remote and care management moving across the continuum into value-based care
Understand the benefits of each and how to leverage each other's expertise
Glenn Krauss, Creator and Founder of Core- CDI and Co-Founder of Top Gun Audit School
CDI- A Multidisciplinary Approach to Achieving Clinical Documentation Excellence with Sustainable Performance 
OBJECTIVES:
The medical record as a communication tool
Best practice standards and principles of documentation
Fundamentals of documentation process improvement-working with a multidisciplinary team
Multidisciplinary approach to CDI-Breaking Down Silos - The specifics
Robin Sewell CCS CDIP CPC CIC CHTS-PW, Recovery Audit Consultant
I'm In Denial: Effectively Managing Payer Denials and Downgrades
OBJECTIVES:
Explanation and understanding of different types of denials
An in-depth review of clinical validation and coding denials and downgrades
Implementing a rockstar workflow for your Denials Management Program
Prevent further denials by leveraging insight from actionable data insights
Ryan O'Hara, Vice President Operations at Currency
Clinically Driven Revenue Cycle: Cash as an outcome vs. a goal 
OBJECTIVES:
Challenge the current gross:net:cash metric that health systems are married to; and how that system never allows for REAL process improvement
Right clinical outcome….. Accurate MR…..Get paid…..
Quit trying to get more money, and instead focus on getting the appropriate amount of money.  Which starts by defining what appropriate is.
Revenue Cycle and Clinicians as partners is the key

Mutual trust
Shared communication
Shared "why?"

Acceptance of the burden of documentation and who that record belongs to…
Brian Cui, Speaker, Podcaster, and Video Creator for the HIM, CDI, and Medical Coding Community
Building CDI and Medical Coding Relationships 
OBJECTIVES:
The GAP between CDI specialists and medical coders

Best practices on minimizing the GAP and build relationships

Breaking down the walls
Conflict Resolution, Effective communication
Education, Engagement, Expanding your data
Return to HOME page